OVERCOME STRESS AND ANXIETY – FREEDOM HYPNOSIS Launches CORE 4 METHODS OF STATE CONTROL
Do you want to learn how to have a calmer life? Are you tired of getting stressed, overwhelmed, or anxious? Then you're in luck! 
Freedom Hypnosis has launched Craig MacKay's signature course: CORE 4 METHODS OF STATE CONTROL. 
This course teaches 4 core techniques to help you condition your mind for a better life and overcome stress and anxiety. And all it takes is 60 seconds each. 
This technique is so simple and easy. It has helped 1000s of Craig's own clients. Using the 4 core techniques, you'll overcome limiting beliefs and negative self-talk once and for all. 
And you won't spend hours or days doing it.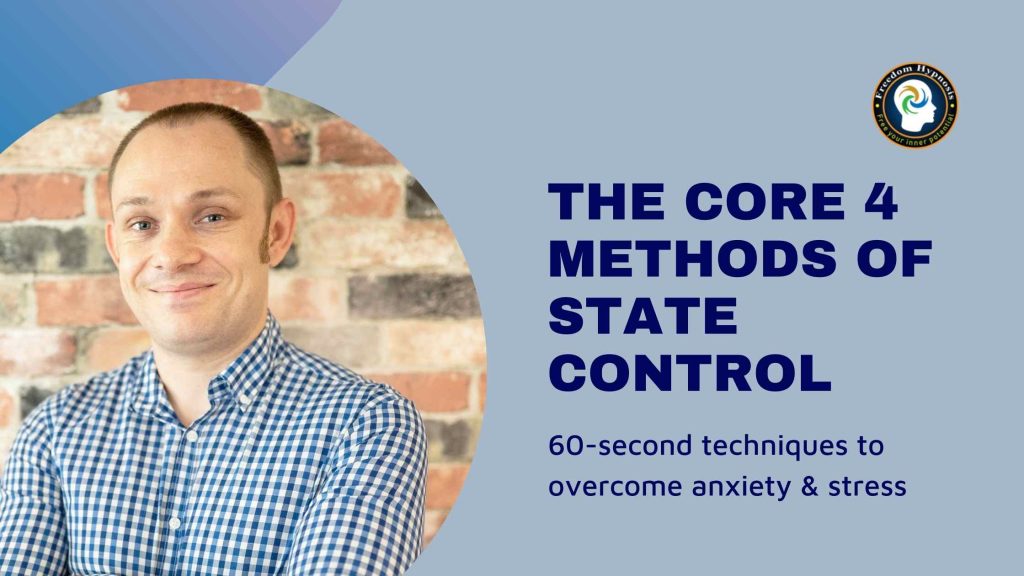 WHY IS THIS DIFFERENT?
The technique is about addressing the root cause of your negative mental problems RIGHT NOW. 
Most self-help gurus teach how to overcome limiting beliefs using self-meditation, breathing techniques, yoga, self-hypnosis, visualizations, exercise, and many other techniques. While these are excellent techniques, they take too long to produce results. 
These gurus use a cookie-cutter approach thinking the same technique applies to everyone. But we're all unique individuals. We have our own way of coping with stress, anxiety, and fear. 
The Core 4 Methods of State Control go to the actual cause of the issue – roots that are deeply embedded in your subconscious mind. It teaches you how to activate a flip or switch in your mind so that in one minute or less, you can start experiencing peace, joy, and confidence. 
THE BONUS
It doesn't stop there. Once you're able to flip the switch to live a better life, you'll change not only your emotional state but also your physical and mental states. 
You'll begin experiencing a happier and healthier life. 
The methods Craig teaches in this course are scientifically proven to help people live longer & happier lives. 
PROGRAM DETAILS
The entire course is only 1-hour long and you have 60 seconds to apply each technique. You'll experience immediate results right after. 
It comes with a money-back guarantee in case you believe it didn't produce the results you expected. 
You can purchase the course and read more about it by going to this link. 
CONCLUSION
Positive thinking is overrated. You don't just think positively and then expect you'll be less anxious, stressed, or overwhelmed. There's a scientific approach, and that's the Core 4 Methods.
Are you ready to live a peaceful & stress-free life?
You don't have to spend hours or months of meditation. Learn this 60-second technique guaranteed to produce a happier & more prosperous life.